Dry and Chapped lips are one heck of a problem and if you are one of those who bite or pick their lips then STOP IT RIGHT THERE!
You are just making it worse!!!
Summer, dehydration, bad habits, harmful sun rays, and no proper care are some of the reasons for chapped and dry lips.
The skin of lips is very delicate and if you don't treat them nicely or don't provide them with the nourishment it needs then they'll get cracked, chapped, and dry very easily.
If your dry and chapped lips are bothering you in your daily life then take a look at these 15 best lip balms in India to moisturize and treat your lips.
Know more about lips Top 10 DIY Lip Scrub Recipes
1. Forest Essentials Lip Balm
Made with Rose petals soaked in Honey and Kokum Butter. This lip balm by Forest Essential is just so gentle and delicate on lips. The fragrance is heavenly and the texture is just the perfect for dry lips. It is very moisturizing and will give you a luxury & royal feel.
Pros
Awesome fragrance.
Organic ingredients.
Attractive packaging.
Cons
The packaging is unhygienic for regular use.
Expensive.
Know more Elle 18 Lipsticks Shades and How to Use It for Skin
2. Kaumudi Handmade & Natural Lip Balm For Women & Men
Are you looking for something that is made with pure and natural ingredients? Then your search ends here!
These handmade lip balms are made with Ghee (Yes you read it right) and it uses no artificial color for the tint.
The combination of essential oil and carefully chosen ingredients will treat your dry lips, chapped lips, cracked lips, provide them with the nourishment, and protect your lips from the sun rays as well.
Pros
Available in 9 different shades.
Natural ingredients.
Cruelty-free.
Paraben-free, No alcohol.
Cons
Know more The 15 Most Preferred Lipstick Brands in India
3. Maybelline New York Baby Lips Color Balm
Maybelline lip balms are so easily available in the Indian market. Their different variants in flavors and colors made them stood out at first.
The SPF 20 in lip balm will protect your lips from harmful sun rays and the formula of coconut oil & Vitamin E will lock the moisturization for hours. It is available in three different shades that'll give your lips a light pop of color and shine.
Pros
Sun protection with SPF 20.
Easily available.
Cons
4. Nivea Original Care Lip Balm
Nivea is known for its genuine moisturizing products. This lip balm from Nivea is not a tinted lip balm though it does come in different shades and it will give you all the moisturization your lip needs. It is Enriched with Shea Butter to provide you long-lasting moisture and treat your chapped lips.
Pros
Cons
5. Kronokare Lip balm
Cracked lips hurt and if you can get something to cool it down that provides moisturization too then why not give it a try?
This lip balm by Kronocare is a non-tinted peppermint lip balm, it gives a cooling sensation when applied that is perfect for summer heat, and the mixture of Vitamin E, Sunflower seed Oil, Almond, and Shea Butter greatly moisturizes the cracked & chapped lips and doesn't even feel heavy.
Pros
Gives a cooling sensation.
Cruelty-free.
Non-sticky.
No mineral oil, sulfate, paraben, or silicone used.
Cons
6. Himalaya Rich Cocoa Butter Lip Balm
If you are a fan of products with Cocoa Butter in them then you should definitely give this lip balm a try.
The formula of Cocoa Butter, Vitamin E, and antioxidants will protect your lips from environmental damage, and prevent chapped, cracked, or wind-burned lips. It has a thick consistency but doesn't feel heavy on the lips and intensely moisturizes, heals, and repairs the lips.
It also comes in 5 different variants.
Pros
Nice Cocoa Butter scent.
No Preservative, No mineral oil, or Silicone.
Free from petroleum jelly.
Cons
7. Vaseline Lip Therapy Color & Care Chapstick
Every Indian must have used at least one Vaseline product in their life. Lip balms from Vaseline are lightweight and give a light sheen of color to the lips with nourishment from Vitamin E which provides moisturization that stays for hours.
It comes in an Original variant and three other variants apricot, cherry, and strawberry.
Pros
Easily available.
Non-greasy and lightweight.
Cons
8. Lakme Lip Love Chapstick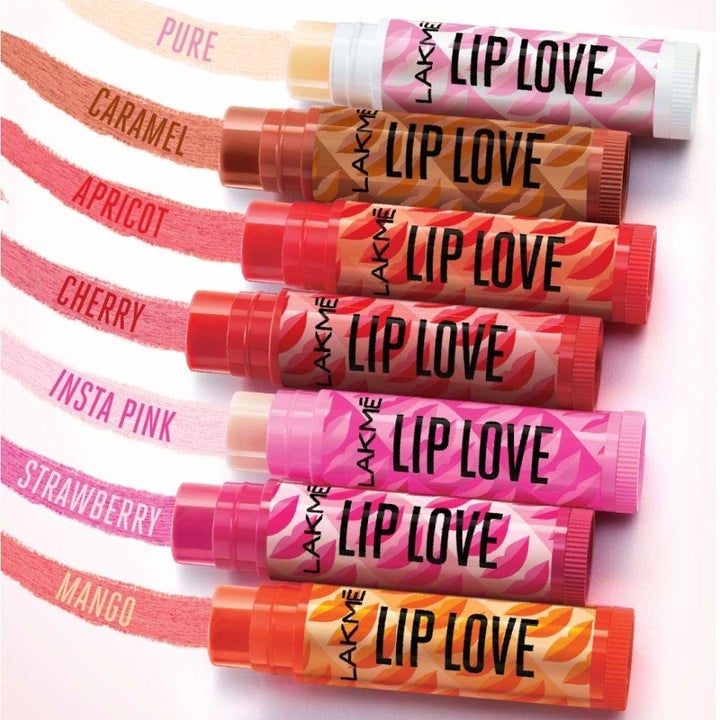 If you are more into tinted lip balms and if you are looking for something that gives a strong color and is also moisturizing then these lip balms by Lakme are perfect.
They come in 6 different shades and one colorless variant and it can really be used as a lip color if you apply more than two to three coats.
Pros
Non-greasy.
Vibrant colors.
Sun protection with SPF 15.
Cons
9. Khadi Essentials Wild Rose Lip Butter
It contains the goodness of natural ingredients like wild Rose extracts, Shea Butter, Kokum Butter, and Turmeric Oil that will lighten uneven toned lips, heal and moisturize chapped and dry lips. It will hydrate your lips and also exfoliate and brighten them.
Pros
100% Vegan ingredients.
Treats pigmentation and dark spots.
SLS & Paraben free.
Cruelty-free.
Cons
10. Neutrogena Norwegian Formula Lip Moisturizer
It is a non-tinted lip balm with SPF 15 to protect your lips from harmful sun rays and it is also non-fragrant, so if you don't like fragrant lip balm then this one is perfect for you. It will make your dry lips soft and smooth and treat your chapped lips without making it greasy.
Pros
Dermatologically tested.
PABA-free SPF 15 sunblock.
Cons
Needs to be applied often.
11. Nykaa Serial Kisser Lip Balm
This lip balm by Nykaa comes in 8 fruity variants. It has a mild fruity fragrance to it and it will give a light sheen and color to your lips.
It has a smooth texture and the goodness of fruit extracts will make your lips soft and hydrated and will keep them moisturized for a long time.
Pros
Cons
12. Biotique Bio Fruit Whitening Lip Balm
With natural ingredients and their moisturizing and depigmentation properties, this lip balm is perfect for you if you are looking for something to treat your dark spots on lips, chapped, and dry lips.
It will lighten your lips, provide nourishment, and will also keep them soft and smooth.
Pros
Dermatologically tested.
Non-greasy.
Cruelty-free.
Treats the uneven tint of lips.
Organic and preservative-free.
Cons
13. Vaadi Herbal Lip Balm
These lip balms by Vaadi are very cheap but don't go on their price tags. They are very moisturizing and will make your lips soft and supple.
They come in 5 fruity flavors and it will add a very light tint and shine on your lips.
It will also treat blistered lips and Pigmentation on the lips.
You can buy all of them together and try a different one every day.
Pros
Very affordable.
5 fruity flavors.
Treats pigmentation.
Cons
14. Nykaa Lip Crush Macaron Lip Balm
These lip balms are so cute and delicious looking that you wouldn't be able to decide whether to eat or apply it on your lips.
These lip balms come in 7 different delicious flavors and shades that are infused with Shea Butter, Jojoba Oil, and Sweet Almond Oil that will provide moisturization to your dry lips for a long time. It has a nice mild fragrance and soft texture that will make your lips glossy and smooth.
Pros
Nice fragrance.
7 different flavors.
Cruelty-free.
Cons
15. Organic Harvest Butter Lip Balm
These lip balms are heavily tinted just like the Lakme lip balms and it can easily replace your lip colors and can be used regularly. It comes in 3 different variants and is made with ingredients like Mango Butter and Sunflower Oil that are organic certified. It will protect the lips from further damage and restore hydration and moisture in dry, cracked, and chapped lips and make them healthy-looking.
Pros
Cruelty-free.
No harmful chemicals used.
No Paraben, No Sulfate.
Nice packaging.
Cons
Taking care of lips is very easy, just glide a lip balm and you are done. Whether you like tinted lip balms or non-tinted lip balms, all the lip balms mentioned here in this list are amazing and will surely give you soft and smooth lips that are not painful to touch and just beautiful.
Don't forget to drink water to keep your body and your skin hydrated in this summer heat.