If you have thin hair like me, chances are you are looking for some cure for it. You must have tried those shampoo from ads on TV that do nothing. And don't get me started on useless oils sold on supermarket counters with mineral oil and loads of chemicals.
We as Indians know how much importance our mother and grandmother have given to the oiling and hair oil for that shiny, silky, smooth, long, luscious hair. And they are right, oiling is an essential part of hair care and should be included in your regime.
I will give you some reasons why oiling is beneficial for maintaining the health of your hair –
Know more What Product Help Hair Growth?
Oiling promotes hair growth.
Oiling prevents premature hair greying.
Oiling relieves stress.
It strengthens your roots.
Prevents damaged ends.
What kind of hair oil you should be looking for?
Good hair oil should be free of mineral oil. Mineral oil, which is also known as liquid paraffin, is derived from petroleum.
It is a common, cheap ingredient of creams, lotions, and other face and body care products because it's a greasy, protective emollient. But too much of mineral oil can cause hair dryness, damage to the scalp, hair fall and can affect your hair growth.
The next thing you should be avoiding is Paraben. Parabens are preservatives, but it can cause rashes and allergies. Also, long term use of parabens is not as safe as it believed to disrupt your hormone function.
Sulfates like SLS, SLES, Ammonium Lauryl Sulfate, these are the cleansing agent that is harsh for scalp and skin and lead to dryness, irritation and strip the natural oil from the scalp.
So, if I made you confused about which hair oil is good for you, then worry not! Here I have made a list of 10 best oil for hair growth and choose anyone that you think is suitable for you –
Know more 10 Easy DIY Hair Oils for Hair Growth
1. WOW Skin Science Onion Black Seed Hair Oil
You must have heard about "pyaaz ka ras" or onion juice if you are looking for something for your hair growth.
This hair oil is non-greasy, non-sticky, fast-absorbing, made of black onion seed and blend of cold-pressed castor, jojoba, sweet almond, Extra virgin olive, Moroccan Argan and coconut oils.
The sulfur in onion is very good for hair. It provides the hair with the nourishment it needs to grow. This hair oil helps in fighting thinning of hair, split ends, dryness, premature graying, and dandruff.
It suits all scalp and hair types, and regular use will make your hair silky, smooth, and strong.
know more 20 Best Hair Growth Shampoos in 2020
Pros
Enriched with 100% pure cold-pressed oils.
100% free of hexane, mineral oil, and silicone.
Easy to use as it comes in a pump bottle.
Detangle and moisturizes the hair.
Non-greasy and increases shine.
Cons
2. Kama Ayurveda Bringadi Intensive Hair Treatment Oil
Kama Ayurveda is an ayurvedic brand of skincare and haircare, founded in 2002, Delhi, India. They are one of the best brands if you are looking for good hair and skin care ayurvedic products, and this is also one of their best products for hair growth.
Kama Ayurveda Bringadi Intensive Hair Treatment Oil is 100% natural and made of pure Sesame oil and Milk. It also includes Indigo, gooseberry (amla), Eclipta Alba (bhringraj) to promote hair growth. The Indigo is used to give color to the hair; detangles hair makes hair thicker and manageable.
The bhringraj and amla in oil promote hair growth, reduces premature greying and hair loss.
Sesame oil has antifungal and antibacterial properties that are effective in treating dandruff and lice.
The best part is since it's an oil treatment, you don't need to leave it overnight, just massage your hair and leave it for 20-30 minutes and wash your hair with a mild shampoo and warm water.
know more Best 15 Hair Growth Oils Available in India
Pros
Easy to rinse off.
100% organic, Paraben, SLS free.
Gives a dark hue in the hair.
Conditions hair and makes hair soft and shiny.
Cooling agent.
Cons
Could be a little expensive as you'll have to pay Rs.675 for a 100 ml bottle.
Fragrance could be a problem for some people as it has a slightly pungent ayurvedic smell.
3. Maka Mahabhringraj Oil
Bhringraj oil is an ancient herb used for hair fall, hair growth, and many hair problems. It is also called 'King of Hair.'
The packaging may not look very fancy to you. Still, this oil is loaded with natural ingredients like til oil, Maka, Bramhi, Amla, coconut oil, dried rose petals, nagarmotha, etc., to prevent hair loss and promote new growth. Not only that, but it also treats dandruff, greying of hair, and alopecia areata. It is enriched with vitamin E and helps in sleeplessness and headache also!
Bhringraj oil has lots of benefits and is worth trying at least once.
know more What Products Are Good for Naturally Curly Hair?
Pros
Affordable
Rare herbs aiding many hair and scalp problems.
Treats headaches and insomnia.
Repairs damaged end and split end.
Treats Alopecia Areata.
Cons
4. Wishcare Cold Pressed Castor Oil for skin and hair 
It is extracted directly from artisanal farmers in Kerala, India. It's unrefined, cold-pressed all in one skin and hair oil packed with antioxidants. It is 100% pure and organic and could be an excellent solution for all your hair problems.
Castor oil is known to stop hair fall and promotes hair growth and makes hair stronger and thicker. You can also mix it with essential oils like tree tea oil, or you can mix it with coconut oil for extra benefits. But this product can also be used on your face, lips for moisturization and it Also thickens eyelashes and eyebrows! Isn't that great!!
know more Top 10 Hair Masks For Shiny Hair
Pros
100% pure and natural cold-pressed castor oil and free from Paraben and SLS.
Makes hair thicker and stronger.
Moisturizes hair and skin.
Effective on hair growth.
Works on beard hair too.
It has antifungal properties.
Treats brittle nails.
Affordable
Good packaging and comes with an applicator.
Cons
Castor oil is known to be a thick, heavy oil and it can weigh down your hair.
5. Figaro olive oil
My aunt is using Figaro Olive Oil for three years, and she swears by it! She loves it, and I have also used it and still use it sometimes. But trust me, if you keep using this oil continuously, it is going to give you great benefits!
It's a multi-purpose extra virgin oil used for hair, skin, and also for cooking. Very useful for hair growth as claimed by my family. Vitamin E in the oil nourishes the scalp and prevents dandruff and dryness. Also, Olive oil helps block the production of DHT (di-hydro-testosterone), which is one of the main culprits in many causes of hair loss and thereby helps reduce hair fall. You can blend it with coconut and almond oil for extra benefits. It's a very old olive oil brand, and even my grandma has used it.
know more 10 Best Oils to Control Hair Fall
Pros
Effective in hair growth.
Blocks the production of DHT.
Also used as a moisturizer.
Can be used for warm head massage and body massage.
Improves blood circulation.
Used as a makeup remover.
Cons
6. Khadi Natural Rosemary and Henna oil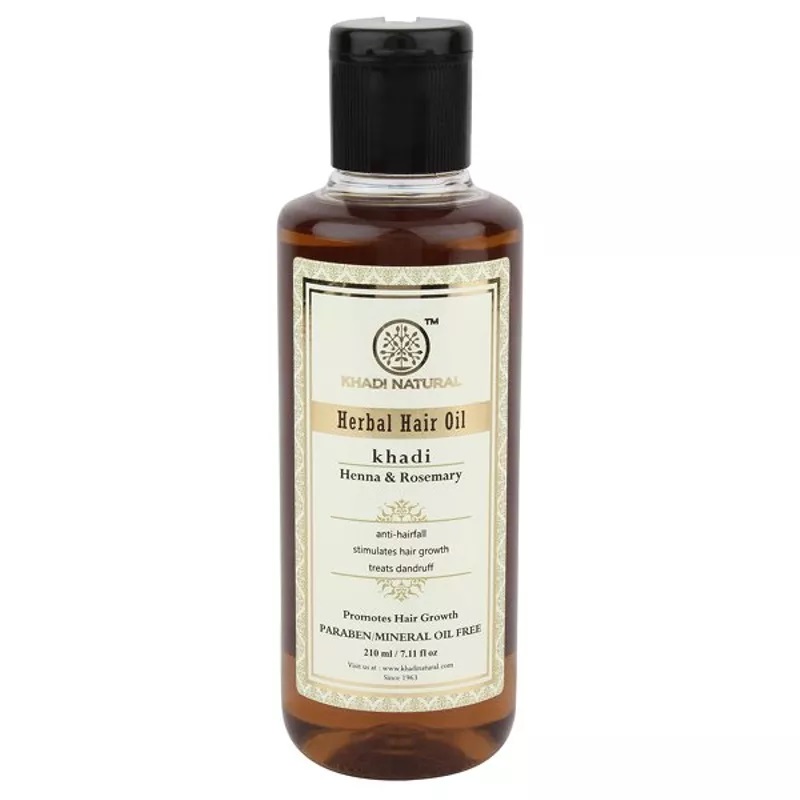 Khadi is a fantastic Indian brand for organic herbal products. They have a wide variety of skin and hair care products, and I love their range of ingredients!
Khadi rosemary and henna oil is a rich formulation oil that reduces inflammation and keeps the scalp healthy as described by the manufacturer. It has antioxidant and antibacterial properties that kill bacteria, maintaining the health of hair.
The Rosemary in this product stimulates blood circulation that, in turn, promotes hair growth. According to one study, Rosemary was as useful as minoxidil. Henna is another excellent ingredient; it has anti-inflammatory and antimicrobial properties; it maintains the pH level and balances oil production. Also, it's paraben-free and not very thick in consistency, so it quickly gets absorbed. This oil is an excellent blend of ingredients like Shikakai, Neem, Bhringraj & Amla that promotes hair growth and prevents hair fall and dandruff.
know more 7 Easy Hair Masks You Can Make at Home for Silky Hair
Pros
Anti-inflammatory, anti-microbial.
Stimulates blood circulation and hair growth.
Prevents dandruff.
The non-sticky, non-greasy, texture is not very runny or thick.
Makes hair shiny and bouncy.
Paraben-free.
Cons
7. Mamaearth Onion Hair Oil for hair growth with Onion & Redensyl for Hair Fall Control
Mamaearth has recently started getting a lot of attention, and they deserve all the attention they are getting. Their products are all-natural free and from chemicals. This hair oil is packed with the benefits of many extracts and oils like Onion seed oil, Redensyl, Gurhal oil extract, Jojoba oil, sunflower oil, Almond oil, and Bhringraj oil, etc. Redensyl is the newest breakthrough against hair loss and claims to work better than minoxidil.
know more 7 Best Hair Spa Creams of 2020 for Damaged Hair
Pros
Suitable for all hair types.
Chemical-free.
Reduces hair fall, promotes hair growth.
Contains Redensyl and onion oil.
Adds strength and shine.
Safe for chemically treated and colored hair.
Free from Parabens, silicone, and dyes.
Dermatologically tested.
Comes with an easy comb applicator.
Cons
8. Mamaearth Bhring Amla Hair Oil with Bhringraj & Amla for Intense Hair Treatment 
The good old Amla is considered beneficial for hair since ancient times. It is still one of the best and most trustable ingredients for hair growth and for preventing hair loss and greying of hair. Amla also darkens your hair and strengthens hair from the root, making them stronger and healthier. Mamaearth Bhring Amla hair Oil is a blend of 15 medicinal herbs, including bhringraj, Amla, Bramhi, Shikakai, etc., that keeps hair secure and scalp healthy. The Ayurvedic formulation of this product rejuvenates hair and repairs root damage.
know more 10 Best Conditioners For Dry And Dull Hair
Pros
Free from parabens, sulfates, silicones, phthalates, and artificial colors.
It has antimicrobial properties that clear dandruff.
It boosts blood circulation and strengthens hair follicles.
Provides antioxidants to the roots.
Good packaging comes with a comb applicator.
Cons
9. Wheezal Jaborandi Hair Oil Treatment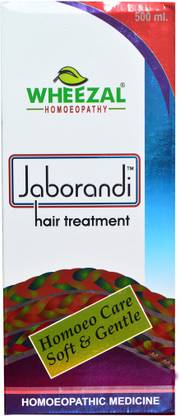 Jaborandi is being used for medicinal purposes since the 1500s. Wheezal Jaborandi Hair oil can treat various hair problems like hair fall, dandruff, premature greying of hair. It also nourishes the scalp and hair follicles and maintains healthy blood flow to the scalp. It slows down age-related hair loss and strengthens hair roots. Prevents split ends and suits all hair types. This Jaborandi oil is homeopathic medicine and can also treat itching of the scalp.
know more Best Hair Colors for Those Style Freaks
Pros
Prevents greying, hair fall, dandruff.
Promotes hair growth.
Adds luster and shine to the hair.
Maintains healthy blood flow to the scalp.
Nourishes the scalp and hair follicles.
Slows down age-related hair loss.
Affordable
Cons
10. Nature sure Jonk Tel- Leech Oil
If you are suffering from severe hair loss, then you should give Jonk Oil a try. Users have claimed to have good results in less time. This oil also claims to cure Alopecia and baldness.
It increases blood circulation in bald areas. It has antifungal properties. The regular use of Jonk oil can regrow your hair, prevent hair loss, dandruff, and infections.
know more Best 15 Home Remedies and Tips for Unwanted Facial Hair
Pros
Affordable.
Happy users.
Made from 100% pure Jonk oil.
Cons
Note: Before using any new product, a patch test is recommended, and if you see any redness or itchiness, you should discontinue the use of the product.
New hair growth takes at least three months, so you should give any products minimum of 2-3 months before coming to any conclusion.
I don't want to make you sad, but if you think that these oils are not working for you, then you should get checked with the doctor for other underlying problems.