The stress, unhealthy and improper diet, chemical treatments, dyes, weather, humidity, and dust, all of this leads to dry, frizzy hair that is prone to hair fall and damage.
Hair gets dry because it lacks moisture, dry hair leads to frizz, hair breakage, damage, and loses its shine. If you are facing any of these problems then you should definitely give hair masks a try.
A hair mask helps bring back that lost shine. Hair masks help in strengthening the roots, hydrates your hair, adds a layer of protection with the ingredients it uses, deeply conditions the hair providing it with the nutrients it needs after going through all the torture, and leaves you with soft, silky, shiny, smooth, frizz-free, bouncy and manageable hair.
Due to Covid19 going to a salon or spa for hair treatment is risky but we can order or buy some hair masks at home and pamper our hair at home. Let's check out the Top 10 hair masks for shiny hair.
Know more hair mask 7 Easy Hair Masks You Can Make at Home for Silky Hair
1. Schwarzkopf Professional SPA Essence Enriching Cream Masque
Schwarzkopf Professional is one of the world's leading professional Haircare and Hair cosmetic brand. This hair mask by them is so amazing and one of the best in this price range. This mask is for damaged hair. It intensely nourishes and treats damaged hair. Just 5 minutes of the application can give you smooth, shiny soft hair. It has a floral and fruity scent. The tub is going to last for at least more than a month as they give a big tub for such an affordable price. It also detangles hair. It also claims to give you a lavish spa experience at home.
Pros
Cons
Contains SLS and Paraben.
2. Body Shop Banana Hair Mask
If you don't know banana is a great ingredient for shiny, soft, bouncy hair. Banana has high silica content that helps in smoothing frizzy, dry hair.
This hair mask contains ingredients like banana puree from Ecuador and Brazil nut oil from Peru and is Enriched with Brazilian cupuaçu. This product is 100% Vegan and has a thick consistency and smells like, of course, BANANA. This hair mask is for normal to dry hair. It makes hair instantly shiny, soft, and manageable.
If you love banana masks but don't want to go through the hassle of mashing bananas and then taking out small chunks of banana from hair until hours then you should definitely try this.
Pros
Made with organic banana puree.
100% vegan and organic.
Cruelty-free.
Cons
3. Bella Vita Organic One For All Hair Mask Spa Cream
Bella Vita is an Indian organic brand, This hair mask by them is a spa cream specially created for dry, damaged, thin, brittle, and chemically treated hair.
It can be used for several hair problems like hair fall, frizzy hair, dry hair, split ends, damaged hair due to hair coloring. It contains ingredients like biotin, apple cider vinegar, argan, onion, shea Butter, tea tree oil, jojoba oil, etc which gives you a healthy scalp and hair. it also removes dandruff and helps in hair growth as well. It is safe for colored and chemically treated hair.
This product will provide your hair the hydration and moisture it's lacking, it will fight against the heat and weather changes, it will improve your dull and damaged hair and provide your tresses hydration, shine, smoothness, softness, and bounce it absolutely craves.
Pros
Enriched with Keratin and biotin which boosts hair growth.
Removes dandruff.
Safe on color-treated.
Cruelty-free.
Cons
4. Mamaearth Argan Hair Mask
Mamaearth is an Indian brand, their products are well known for their 100% organic, natural, and chemical-free products.
This Mamaearth hair mask contains the goodness of ingredients like argan, avocado oil, milk protein, and curd extracts which deeply conditions, provides the moisture your hair needs, and makes them shiny, silky, and soft. It is made for dry, damaged hair. It also reduces hair fall, split ends, and dandruff.
Pros
No Parabens, Sulfates, Mineral Oil, Dyes, or Synthetic Fragrances.
Promotes hair growth.
Hypoallergenic.
Dermatologically tested.
The brand is 100% plastic positive, they recycle more plastic than they use.
Cons
5. L'Oreal Professionnel Serie Expert Prokeratin Liss Unlimited Masque
This hair mask by L'Oreal is enriched with Pro-Keratin and Kukui & Evening Primrose Oil, it can give you up to 96 hours of frizz-free hair, even with a high level of humidity.
This product is made for frizzy unmanageable hair. It is a powerful smoothing mask, formulated with Polymer AR to protect hair fiber.
The Kukui Nut Oil in the mask contains omega 3 and 6 which acts as a humidity blocker and Pro keratin deeply nourishes, conditions, hydrates and strengthens the hair which makes those rebellious tresses silky, soft, smooth, frizz-free, and manageable.
Pros
The fragrance lingers until the next wash.
Good for chemically treated hair.
Gives you frizz-free hair up to 4 days.
Cons
6. ORIENTAL BOTANICS RED ONION HAIR MASK
Oriental Botanics red onion hair mask is a blend of 26 natural oils like Moroccan Argan Oil, Rosehip Oil, Borage Seed Oil, Wheat Germ Oil, and Grapeseed Oil and extracts such as Neem, Bamboo, Calendula, and Curry leaf which deeply conditions the hair. It smoothens the locks, adds shine, and makes them manageable.
This mask will strengthen your hair, reduce split ends, frizz, dandruff, and hair fall. It also helps in preserving the natural color of the hair, elasticity, and texture of the hair.
It will remove excess oil and add a protective layer to the hair from heat and environmental changes, 100% natural and boosts hair growth. It is suitable for all hair types; curly, straight, colored, and chemically treated hair.
Pros
An awesome blend of 100% natural ingredients.
Sulfur rich formula.
Sulfate and paraben-free.
No mineral oil used.
Cruelty-free.
Cons
7. Matrix Biolage SmoothProof (Camellia) Smoothing Masque For Frizzy Hair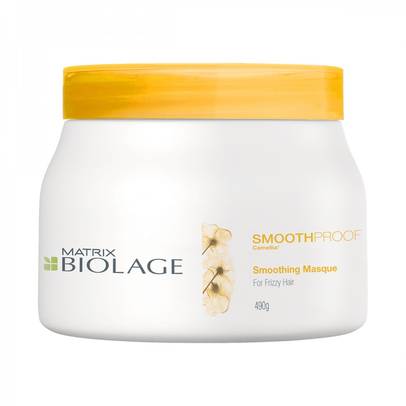 Products by Matrix have got a good name in Salons and are used extensively.
This hair mask by Matrix is specially made for extra frizzy, rebellious hair. It deeply conditions and nourishes hair and gives you long-lasting smoothness and shine. It controls frizz even in a high level of humidity. It restores moisture in dry weather and reduces hair fall as well.
Pros
Affordable and easily available.
Specially made for smoothening of frizzy hair.
Safe on color-treated hair.
Cons
8. Godrej Professional Keratin Rich Mask 
Godrej is a well known Indian Brand known for its affordable range of products.
This hair mask by Godrej is the most affordable Keratin hair mask. If you have thin, damaged, and dry hair then you should definitely try this product at least once. It strengthens and replenishes dry, dull hair. Keratin straightens hair, reduces hair fall, and gives shine, bounce, and smoothness to the hair. This mask is made for normal to dry hair but they do have different variants of masks for different hair problems like dry and damaged hair, frizzy hair, and fragile hair.
So go for this mask if you want an affordable Keratin-infused mask.
Pros
Affordable.
Comes in tube packaging.
Safe on color-treated hair.
Cons
9. Tresemme Smooth Keratin Nourishing Mask 
Another Keratin Rich mask on the list is this keratin-rich mask by Tresemme which is infused with Marula oil. Marula Oil is native to Southern Africa, known as Africa's beauty secret. It is a fast-absorbing and ultra-lightweight oil, it seals the hair follicles and gives ultimate softness and shine. This mask gives 5 benefits in one mask; fights frizz, detangles knots, boosts shine, adds softness, and tames flyaways. It can control frizz for up to 3 days, deeply smoothens, hydrates, and straightens hair.
Pros
Keratin Rich mask.
Controls frizz for up to 72 hours. 
Gentle can be used regularly.
Perfect for chemically treated and colored hair.
Cons
10. StBotanica Moroccan Argan Hair Mask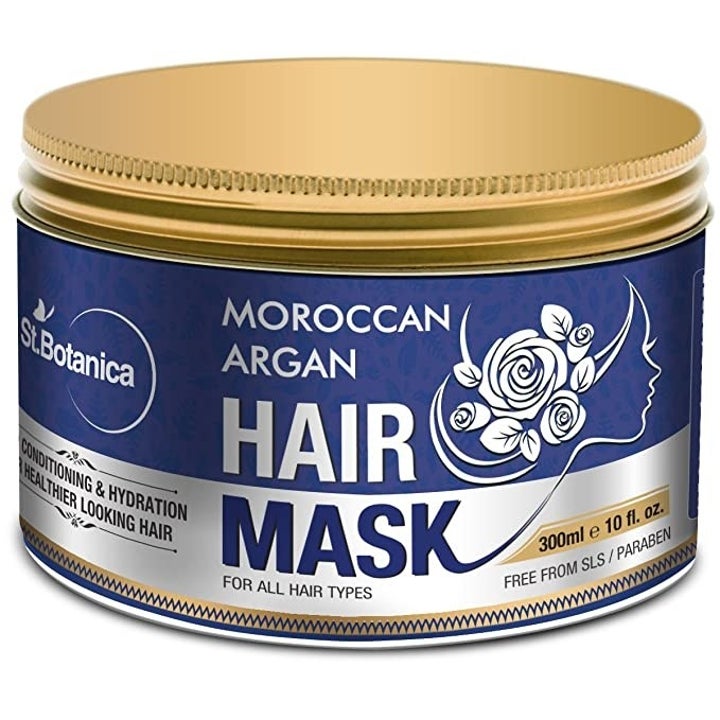 If you have dry, damaged hair or over-processed hair then this mask is perfect for you. It is made with the highest quality pure organic Argan Oil-rich in essential vitamins and nutrients and is suitable for all hair types.
This hair mask strengthens weak hair and deeply conditions, moisturizes, and hydrates hair and leaves you with a beautiful shiny, silky, soft, bouncy, and healthy hair. It also detangles hair and adds volume and makes them manageable.
It also protects hair from damage caused by heat and styling products. Enriched with Lavender Oil and Rose Oil, which promotes hair growth, prevents lice and helps get rid of dandruff.
Pros
No Parabens, Sulfates or Silicones, No Mineral Oils.
Cruelty-free & vegan.
Dermatologically tested.
Cons
We all need pampering from time to time and so does our hair. Going for Spa and Salon is not always possible and the heavy bill that comes after is just not affordable all the time and in this situation, it is not even considered.
Hair masks are great for hair care at home that will save you money and time.
Remember that all masks are not the same, read the ingredients, and consider your hair type before purchasing any mask. Always read the instructions and do the patch test before trying any new product.
Make sure your hair is clean otherwise it will just weigh down your hair. Comb your hair before taking a shower, it will help reduce the hair fall and also help the mask sit better on hair. Never apply hair masks to your roots unless it is mentioned on the product that you can.
Know more 7 Best Hair Spa Creams of 2020 for Damaged Hair