Do you have acne full skin? Tanned skin? Dark spots? Do you want a glow-up? And you want to get rid of these things that make you feel uneasy. When you look good, you feel good, and looking good is one thing everyone in this world wants. We all try various things and give so many efforts to look good. But if we know the best of the best things, then our struggles will decrease a little. So, here are 7 best fairness creams that work.
Know more The 10 Most Effective Skin Lightening Creams
1. Lakme Absolute Perfect Radiance Skin Lightening Day Crème with sunscreen
Lakme absolute perfect radiance skin lightening day cream contains micro-crystals and skin lightening vitamins. It is a day cream that has serum mixed. It protects your skin from harmful sun rays since it has SPF 30 in it. It contains a mix of vitamin B3 and vitamin C. It moisturizes and illuminates your skin.
Price Rs. 254.15 – 50g
Pros
Can be used for all skin types.
It blends easily with skin when applied.
Can be applied on bare skin.
Cons
The application can be problematic on uneven skin. 
2. Olay White Radiance Advanced Brightening Intensive Cream
Brightening cream that brightens and moisturizes your skin. It has SPF 24 which protects the skin from harmful sun rays. It contains niacinamide which helps to make your skin tone even and reduce dark spots. It has glycerin that keeps your skin hydrated. Using it regularly will give you radiant skin.
Price Rs. 895.00 – 50g
Pros
Blends easily.
Protects from sun damage.
Cons
Expensive.
Tough to apply on acne-prone skin.
3. L'oreal Paris skin perfect anti imperfections+whitening cream
L'oreal Paris skin perfect anti imperfections+whitening cream has Vitamin 3X that is a blend vitamin B3, vitamin Cg, and vitamin E; this vitamin 3x protects the skin from harmful environmental effects, lightens the skin, and minimize dark spots. This cream also protects you from UV rays. It also minimizes the growth of pimples and gives you spotless, beautiful skin.
Price Rs. 220.00 – 50g
Pros
Smooth texture.
Sun protection.
Easy application.
Cons
It is not suitable for winters.
4. Lotus Herbal Skin Whitening and Brightening Gel Crème
Lotus herbal skin whitening and brightening gel cream are some of the best creams you can ask for. It has SPF 25 which protects your skin from dangerous sun rays. It lightens, brightens, and whitens the skin. It has Mulberry, Saxifrage, and Grape extracts in it.
Price Rs. 312.00 – 60g
Pros
Protection from UVA and UVB.
Prevents skin darkening.
Does not make skin oily.
Cons
5. Pond's White Beauty Anti Spot Fairness Day Cream
Pond's white beauty anti-spot fairness day cream makes skin spotless and brighter by reducing the dark spot and enhancing your skin. It contains vitamin B3, which is known for skin brightening and keeping skin moisturized. It has SPF 15 for protecting skin from sun damage. Using it daily will give a spotless and brighter skin.
Prices Rs. 100.00- 35g
Pros
A smooth finish.
Easily applicable.
Cons
Do not give results instantly.
Not for oily skin.
6. Garnier Skin Naturals White Complete Speed Multi Action Fairness Cream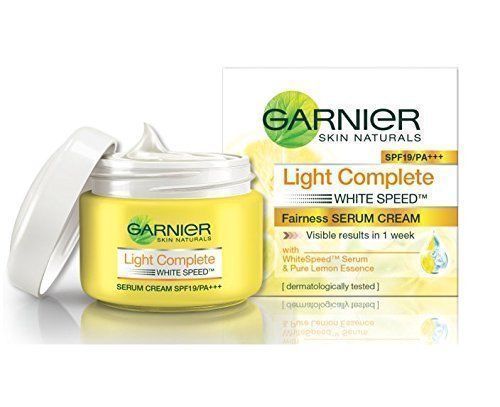 Garnier skin naturals white complete speed multi-action fairness cream is one of the creams which shows instant results. It has the goodness of lemon to purify your skin and make it lighter. This cream keeps your skin moisturized. It gives you instant whitening, lasting fairness. It contains SPF 17 that protects the skin from sun damage.
Price Rs. 68.00 -18g
Pros
For all skin types.
Results last for a longer period.
Cons
Makes skin a tiny bit greasy or oily.
7. Himalaya Herbals Natural Glow Fairness Cream
Himalaya herbal natural glow fairness cream has a Phyto-vitamin complex. This cream will minimize dark spots and uneven skin. It will lighten the skin and give you a fair complexion. The star component of this cream is Alfalfa and saffron. It also has vitamin B3 and vitamin E, which helps skin lightening and prevents skin damage.
Price Rs. 90.00 – 50g
Pros
Natural ingredients.
Suitable for all skin types.
Clinically tested.
Do not have paraben in it.
Cons
Do not protect from sun damage.
The results are shown after a long time.
Every skin tone is beautiful, and every face is pretty. Loving yourself for who you are is really important. However, if you have dark spots or some blemishes, do try these creams out for good results and even skin tone.
Know more Best BB and CC Creams for a Flawless Skin and Light Makeup Look